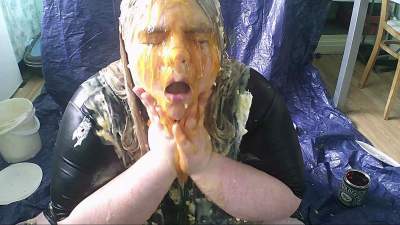 Starring the following model:
"Filling up her catsuit with custard, pudding and 2 cans of sticky syrup!"
| | |
| --- | --- |
| File count: | 2 |
| Total size: | 340.78 MB |
| Runtime: | 10 mins, 55 secs |
| Released: | 7/11/18 |
| Views: | 1826 |
| Scene ID: | 29310 |

$5.00



Dressed in her favourite tight black catsuit with the short legs, short sleeves and neck to crotch zip--Mog is in the mood for sweet things, sticky things and filling her catsuit to the brim with mess.

She starts with two big whipped cream pies--one splattered hard into her face and smeared up onto her head for a pie plate hat and the other gently and sensually massaged and smeared all around her face and down over her chest.

Next is the bucket of custard, which Mog pours over her face and head with one hand, while opening her catsuit collar with the other. Her face gets totally covered and any runoff slides down inside the waterproof material of the catsuit, where it can't escape.

After the custard comes the rice pudding--which Mog wastes no time pouring straight down her neck until she has a huge messy bulge of goop inside her clothes, squirming it's way into everything underneath. She massages and smears it around, really enjoying the loud sloppy and squelchy sounds it makes.

As her final treat, Mog has two big cans of super thick and extra sticky golden syrup--which she delights in smearing all over her face and slapping onto her head to rub into her hair like a sticky shampoo. She even pours out a whole bunch onto a paper plate and delivers a really heavy syrup pie to the face--complete with pie hat smear as she really loves the feeling of sticky stuff in her hair and on her scalp. Some syrup is even added to the mess inside the catsuit--which Mog continues massaging and stirring around before unzipping completely to show just how much mess was in there--before having fun smearing the goo all over her stomach and breasts--even using it as a cheeky little lubricant for some nipple teasing and tweaking!

Report