| | |
| --- | --- |
| Cakesitting and Assfucking | |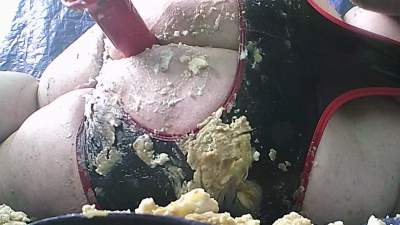 Starring the following model:
"8 creamy sponge cakes and 3 long dildos, all going into her ass!"
| | |
| --- | --- |
| File count: | 2 |
| Total size: | 420.35 MB |
| Runtime: | 14 mins, 37 secs |
| Released: | 7/11/18 |
| Rating: | |
| Reviews: | 2 |
| Views: | 2111 |
| Scene ID: | 29309 |

$10.00



Dressed in a super tight red and black wetlook lyrca singlet (with convenient anal access hole!) sitting on a tarp in kitchen, Mog's asshole is hungry

At her disposal today she has 8 sponge cakes topped with jam and cream, 2 cans of whipped cream to add extra messy topping and 3 of her favourite dildos, a standard 6", an extra girthy 7.5" and a super realistic cyberskin 10" with squishy balls she can sit on. Her asshole is always hungry and is super greedy to slurp up anything that tickles against her pucker.

To get it sufficiently messy, lubed up and ready for a real rough pounding, Mog slams one of the cakes straight into her bare ass before vigorously (and I mean vigorously) massaging the soft and mushy mess into her ass crack and even squishing some up inside her hungry hole. A second follows, with extra whipped cream--which feels amazing on her skin and is nice and slippery ready for the first dildo.

Mog sets down the first (and smallest) dildo before smearing it with handfuls of smushed up cake, jam and cream so she'll have a lovely squelchy seat to squirm around in while her hole gets reamed out. She tops it with more whipped cream before slipping it right up her asshole. She teases herself at first but can't resist sitting down with a loud splat into all the mess and feeling the full length up inside of her ass.

Her other cheeks feel left out, so Mog sprays some cream onto all the smushed up cake mess before rubbing her face all around in it--she even takes handfuls and smears it on her bare breasts and nipples.

Next is her extra girthy dildo that's eye-wateringly wide--so after adding lube, Mog fucks her ass hard and fast while rolling around in the messy cake debris--also really enjoying the sensation of the mess that ended up inside her. More messy cream cakes to the ass as her hole takes a breather before the final fuck

And to finish, Mog rides on her longest of the 3 dildos and rams it hard and deep inside, slapping the balls up against her ass cheeks as she enjoys a wonderfully squelchy and messy orgasm!
Reviews:

I only found out yesterday that MogAnarchy had done videos like these. Appreciate all of her YT gungy uploads but this is a whole other level.
Imadjinn,

9/7/18
edit review
"5 stars. one of the best I've seen"

Well I don't quite no how to explain this. This is one of the best downloads I've ever bought wish I could of been there definitely worth downloading 5stars xx.
Dale1981,

7/12/18
edit review

Report